Ajay Bhalla
President, Cyber & Intelligence Mastercard
Ajay Bhalla is president of cyber and intelligence solutions for Mastercard. He leads the team that develops product solutions to ensure the safety, security and experience of our products and solutions for consumers, merchants, partners and governments around the world. Ajay serves on the company's management committee.

Prior to this role, Ajay was president of the Digital Payment Services business for Mastercard. He led the development and growth of the business in e-commerce and innovative payments processing establishing Mastercard as a pioneer and leader in many markets in this space. Previously, Ajay was president of Mastercard for South Asia and Southeast Asia, where he led the business in 18 markets. During his tenure, Mastercard became a market leader in many markets/segments and grew our business multifold launching several innovative payments solutions.

Before joining Mastercard, Ajay held key leadership positions at HSBC and Xerox.

Ajay has a bachelor's degree in commerce from the University of Delhi and a master's degree in management studies from the University of Mumbai. He is a CEME Senior Fellow at The Fletcher School, Tufts University. He also is a MIT Connection Science Fellow at Massachusetts Institute of Technology (MIT).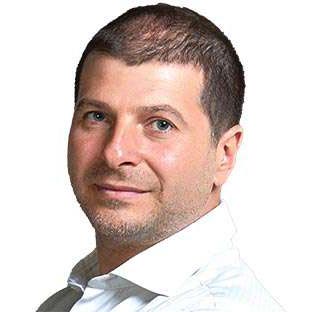 Dr. Plamen Russev
Executive Chairman Webit Foundation
Dr. Plamen Russev is the initiator and focal connector of one of the world's largest impact networks and curator of the global Webit community, reaching out to over 800,000 digerati, policy makers, innovators and media. His success stories include creating the global Webit brand from scratch, supporting founders and brands in establishing and growing a successful marketing strategy, creating meaningful relations with potential partners, customers and media. Plamen supports causes which impact the achievement of the UN' SDGs.

He is an investor, philanthropist and serial entrepreneur and proven success record in developing business ventures in multicultural and challenging business environments.

Plamen Russev is B.Sc in Marketing and Management, M.Sc in Electronic Education/Mathematics and Physics, and Ph.D in Healthcare Management.

Plamen Russev has been appointed Goodwill Ambassador for Digital Affairs of his home country – Republic of Bulgaria and a member of European Commission' BOF.

Dr. Russev' work and impact have been recognised and awarded by governments, associations and NGOs along with 2 honorary doctorates from Universities in Europe and South America. Plamen Russev is featured in hundreds of international and local media including The Economist, Bloomberg, CNBCe, Forbes, Venture Beat, CNN to name a few.

Dr. Russev is the Founder and Executive Chairman of Webit Foundation and host of Webit Virtual. He is happily married to the most wonderful girl in the world and father of 2 boys.